AsliMinang.com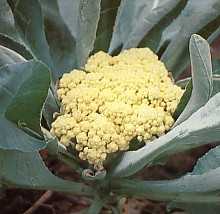 Herbs from Indonesia
This recipe for traditional natural medicine and the following uses, is extracted from the results of BPPT (IPTEKnet) research with CODATA ICSU Indonesia which was realized in 2002.
Other Names of Cauliflower:
Latin: Brassica oleracea var. botrytis, Brassica oleracea botrytis subvar Cauliflora. English: Cauliflower. Regional Language: Kol bunga, kembang kol.
General Information about Cauliflower:
Flower cabbage is a tasty and healthy vegetable. The plant part that is consumed is the flower petals. But before eating this flower cabbage, it must be cooked beforehand, such as boiled, made soup, and so on.
In essence, flower cabbage is a highland or mountainous plant, which is suitable to grow in cool areas during its growing period , and can be found at an altitude of more than 600 m above sea level.
If viewed from the history of its origin, it turns out cabbage originates from the European, Mediterranean, and Asian regions. Flower cabbage has thick and dense flowers, which are composed of small flower arrangements short-stemmed.
In addition, the flower forms a solid part of white or yellowish white, with a diameter that can reach 30 cm. In order to avoid flower damage and keep the cabbage flowers white, then for 2-3 weeks before harvesting the leaves the young bottom is tied to the flower so that it functions as a protector.
In cultivating this flower cabbage, we have to wait for 90 years pies with 120 days to be harvested.
Substances Contained and Efficacy of Medicines from Cauliflower:
The composition of substances contained in flower cabbage is quite a lot, including the compounds cyanohydroxybutene (CHB), sulforafan, and iberine, protein, fat, carbohydrates, fiber, calcium , phosphorus, iron, sodium, potassium, vitamin A, Vitamin C, and small amounts of thiamine, riboflavin, and niacin.
The medicinal properties of flower cabbage include cyanohydroxybutene (CHB), sulforafan, and iberine compounds which stimulate glutathione formation. , a nutritious substance, sulforafan can prevent cancer.
Cabbage flower is also efficacious as a sedative.
How to process and concoct Cauliflower:
To treat headaches, anxiety (anxiety), stress, circulatory disorders, and cancer:
Prepare fresh cabbage flowers as much as 25-30 grams
Wash thoroughly
Process according to our tastes, such as steamed, sauteed, or cooked as a vegetable
That's all we can inform, hopefully useful.
Originally posted 2019-04-15 08:42:51. Republished by Blog Post Promoter